Pallet shipping offers a great way to protect your goods while making shipping more efficient for freight handling companies. It also helps to maximize space in the trailer because it makes shipments more stackable, which makes shipping cheaper.
Pallet shipping is preferred over shipping loose boxes in certain types of shipments, especially when it comes to air, rail, and ocean freight. However, it is a useful method to safeguard your goods even in a domestic shipment. Palletized shipment is suitable for shipping:
Loose boxes or cardboard-covered items

Shrink-wrapped or palletized cargo

Crates of variable sizes that will fit into a 40' container (usually multimodal sea freight)

Mixed cargo
If you're only shipping a 8-10 boxes, it's probably more practical (and cheaper) to ship them loose. However, loose shipping is not suitable for multiple boxes or for LCL ocean freight. This could lead to damage, or loss when the boxes are spread out in a storage warehouse in anticipation for your domestic shipping company to collect it. If one of your items weighs more than 100 lbs, your shipping company may insist on palletizing or crating the box, as it will have to be handled by forklift.
Some shipping methods require the use of a pallet for larger, heavier shipments. It's important for pallets to be stackable. Pallets come in different sizes, and most shipping companies don't mind which size you use, as long as it is in a decent condition. Provided they comply with standard network limitations, your shipping company will collect them from ground-floor locations.
When a pallet is not stackable, in good condition, or if it exceeds limitations set by your shipping company, it will be classified as awkward freight, which will probably carry a surcharge. Be sure to check with the recipient if they have a preferred pallet type.
Why Do Logistics Companies Use Pallets?
Why not just boxes? Good question!
Pallets are actually extremely useful in the logistics industry, because they help:
Fast-Track Deliveries – Provided the company has the right equipment, your shipping company can move a pallet containing all the boxes from your entire household move much quicker than moving all the boxes individually.
Store Smartly – Since all the pallets in a shipment are of uniform shape, it makes them much easier and more efficient to store.
Reassure Protection – Pallets have a strong base and protective wrapping. That means that the contents of your pallet undergo much less handling, and therefore, a much lower risk of damage.
Protect Movers – When you move with boxes, people have to lift and haul them manually from your house to the truck and out of the truck to your new home. This is poses a serious back injury risk. Pallets, on the other hand, are moved by mechanical equipment. It it is safer for the movers.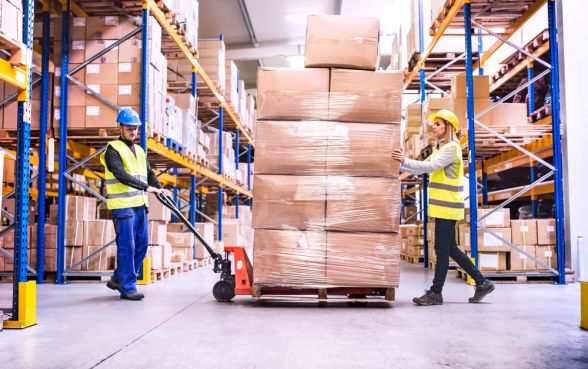 What's the Best Type of Pallet?
When it comes to choosing the right pallet, you may have many questions:
What is the size of a pallet?

How wide is a pallet?

How tall is a pallet?

What material pallet is the best?

How to pack a pallet?
Those are all important questions, and there are many variables. For instance, your shipment will determine the best size and height of your pallet. The material the pallet is made from depends how well your product is protected.
There are many different types, including economy pallets, industrial pallets, heavy duty pallets, solid top rackable pallets, stackable pallets, plastic drum pallets, recycled wood pallets, pressed wood pallets, wood drum pallets, block pallets, aluminum pallets, galvanized steel pallets, and spill containment pallets, to name just a few. It's best to speak to your logistics company about your specific shipment and the best type for their purposes.
Wood pallets come in a variety of sizes and are durable and affordably priced. If they are shipped in a closed trailer, a soft-side trailer, or properly covered by tarps during shipping, your goods will be sufficiently protected. When choosing a pallet, consider the material and take into account:
Temperatures (both in the shipment origin, destination, and conditions along the way)

Humidity

Stress
Most shipping companies use wood pallets due to the value, durability and protection they offer. However, many online retailers offer pallets to suit your needs. You can find new pallets from nurseries, garden stores, power equipment stores and hardware stores. You may even find some lying around your neighborhood, but remember that the quality of your pallet determines the level of protection it offers your goods.
What is the size of a pallet?
How wide is a pallet? What's the standard pallet size in inches?
There are different types of pallets, that vary in size. Much of the industry is influenced by the Grocery Manufacturers Association (GMA).
GMA pallets – the most commonly produced pallets in the U.S., which is 30% of all pallets –  are typically 48' x 40' in size. Deck boards are 3,5" wide and 5/16" thick – those are the dimensions of a standard pallet. A standard pallet is 6,5' tall, weighs approximately 30-48 lbs and can hold as much as 4,600 lbs.
The standard US pallet sizes are:
48" x 40"
42" x 42"
48" x 48"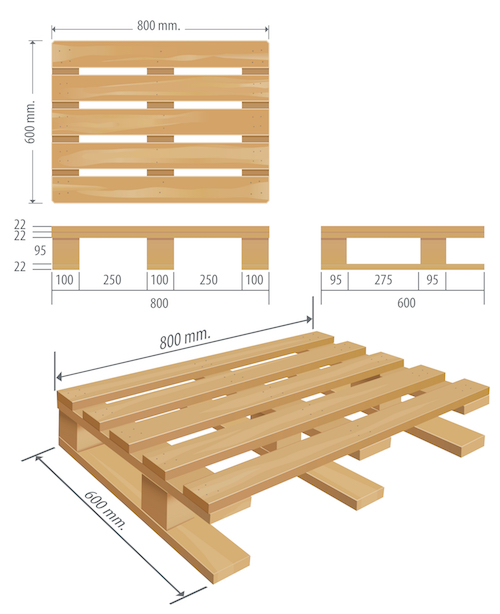 The dimensions of a standard pallet differ, and there are different types of pallets to choose from. Pallets are manufactured with the goal to be easily lifted and moved by forklifts. Pallets have top and bottom decks, which provide enhanced stability over skids. The deck boards are supported by stringers. They have different fork entry specifications. The five most common types of pallets include:
Block pallets – These pallets offer four-way entry for the forklift. The load is supported by a solid block of wood. Block pallets have perpendicular and parallel stringers and are typically more sturdy than others.

Stringer pallets – These pallets are manufactured using 2" x 4" metal, plastic or wood stringers.

Two-way pallets – Also known as unnotched, these pallets have forklift openings on only two ends.

Partial four-way pallets – These pallets have standard openings on two ends and smaller side openings on the other sides.

Four-way entry pallets – Four-way pallets offer full accessibility with forklift openings on all sides.
Some moving companies can provide you with a pallet; alternatively, you can source your own from specialist vendors.
How to Prepare a Pallet Shipment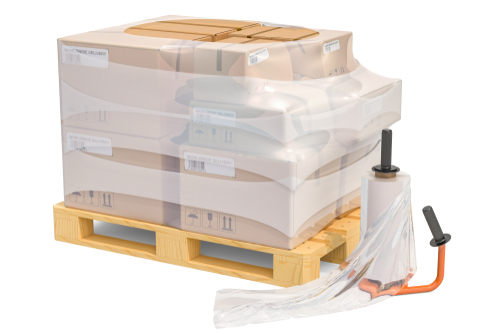 It's important to secure your boxes to the pallet and to test the balance. Most people either shrink wrap or strap their pallets in place. If you use straps, be sure to loop it through the pallet forks. Ratchet or tighten the straps in place to ensure the most secure fit. If you shrink wrap your shipment, a minimum of five full wraps around the pallet should hold it together.
You will know your pallet shipment is secure when it looks and feels like a solid piece. If you're shipping fragile items, be sure to use crush cones. Strapping these devices to your shipment will inform the carrier to avoid stacking any other pallets on top of your freight.
Crush cones are small, triangular cones that are attached to the top of your shipment using straps or packing tape.
You should check your shipment again before pickup and on collection to ensure everything is still firmly in place.
Need to know more about pallet shipping? Get in touch with Cargolia today for a free quote.
Pallets are great for:
Faster shipping

Safer shipping

Smart storage
Consider this when choosing a pallet material:
Temperatures

Humidity

Stress
The standard US pallet sizes are:
48" x 40"
42" x 42"
48" x 48"
Secure your pallet shipment:
Strapping
Shrinkwrap
Crush cones